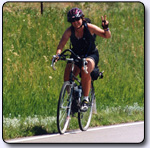 RACHEL'S BIG RIDE ACROSS AMERICA PAGE

Rachel Pilley - Rider #82
---
In 1999, I was a participant in The 1999 BIG RIDE, a fundraising bicycle ride that travelled from Seattle to Washington, D.C., a distance of almost 5,000 kms covered in 48 days. The RIDE was a fundraising event for Lung Associations across Canada and the United States with funds raised going towards research, development and patient programming.

I decided to partake in this huge event for a number of reasons:
(1) I was up for the challenge of raising $7000 US, or $10500 Cdn;
(2) I enjoy cycling and thought that it would be a great way to see North America;
(3) I had enough flexibility in my job to allow me to take the time off work; and
(4) When you can't breathe, nothing else matters.

Making the decision to participate in The BIG RIDE was a huge commitment, but it was probably one of the greatest experiences of my life. If you, or anybody you know, is even remotely inclinded to participate in a future BIG RIDE or similar type event, I strongly encourage you to do so.

While my direct participation with the BIG RIDE and the fundraising efforts of the Lung Association are over with, I encourage you to take a minute to think about your breathing. Please make a contribution to your local Lung Association, because breathing is the most vital of all our functions.
---
If you have any comments or would like to drop me a line please do so: E-MAIL
Thank you in advance for your support